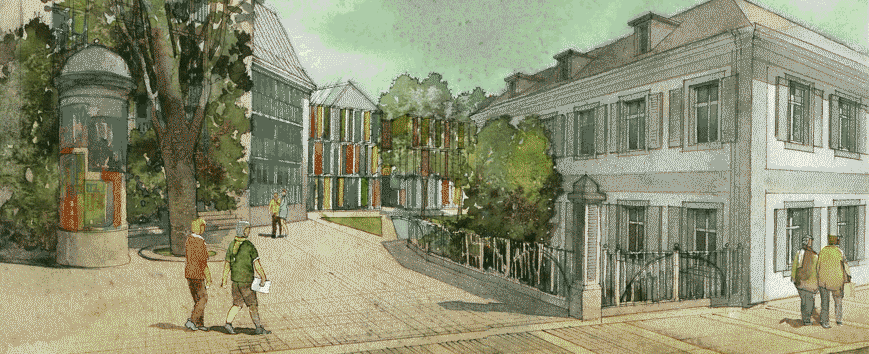 Welcome to the web site of the

European College of Human Ecology
- Initiative -

- News -
On 2017 June 6th the European College of Human Ecology gGmbH was founded notarial in Emmendingen with its head office in the Markgrafenstrasse 53 in 79312 Emmendingen, Germany. Klaus Markus Hofmann and Dr. Wolfgang H. Serbser were appointed as Managing Directors for the new company.
The internaional summeruniversity in Emmendingen with the topic of "Urban Concepts in Sustainable Transition" will be conducted in summer 2018 from July, 29th to August, 12th. The registration period opened on 2017, September, 1st.
Check out our facebook page
- Quite Recently -
An exhibition in the city hall of Emmendingen showed the results of the past summer universities and the integrated planing of the colllege in March 2017
The second international Summer University closed on August, 14th 2016. The closing event presents the successful results in an exhibition in the old meetinghall of Wehrle Werk AG Industries.

During the international conference of the Society for Human Ecology in April 2016 in Santa Ana members ofthe DGH-Committee and the College of Atlantic agree to lunch a second summer university in 2016 in Emmendingen and to continue their joint activities.

- Past -

The Wehrle-Werk AG Emmendingen shows the synergy of college and factory

and presents a own study Machbarkeitstudie Wehrle 2025
May, 24th 2012 the
1. International College Forum Frankfurt took place
during the Global Business Week 2012 in
in the IHK Frankfurt am Main.
November 11th to 13th 2011 the
Annual Meeting of the Council for European Urbanism Germany
took place in the town hall of Emmending, to discuss
the Result of the Charrettee Emmendingen


Initiative for the foundation of a College of Human Ecology for Europe