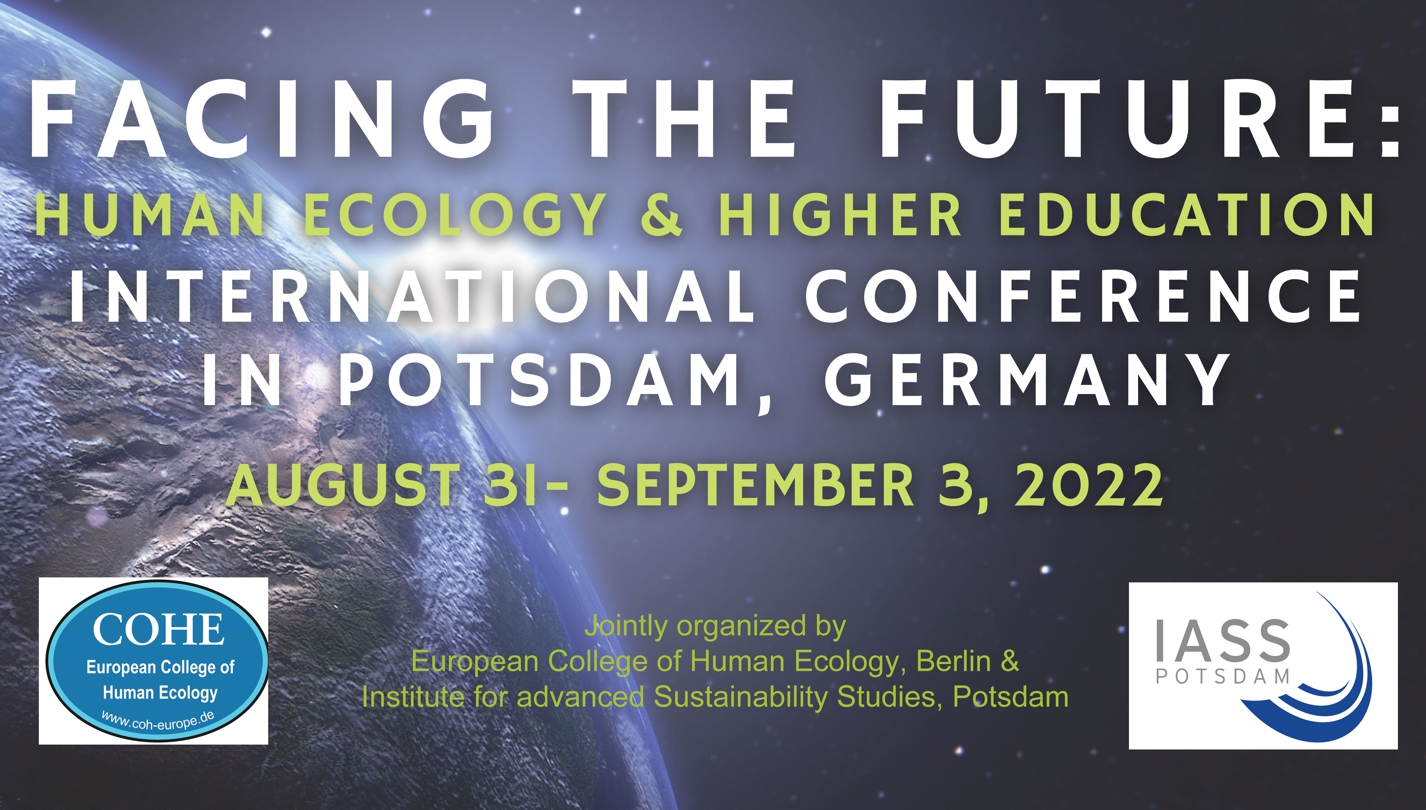 Facing the Future:
Human Ecology and Higher Education
"The evidence is clear: the time for action is now. We can halve emissions by 2030." This is the opening statement of the 6th assessment report of the Intergovernmental Panel on Climate Change (IPCC). We live in a world, which is constantly changing through us and with us. It is not just about greenhouse gas emissions and global warming. To live sustainably and in harmony with nature, we need a transformation and transition of our communities today - the time for action is now.


The times are over when scientists shut themselves off from other disciplines and find solutions for "their" problems alone. Problems such as the climate crisis, peace and security and pandemics cannot be solved by one discipline. Human ecology advocates cross- and transdisciplinary approaches that pave the way for a more sustainable and solidarity-based future.


Young generations' criticisms of current educational concepts and higher education structures are abundantly clear and more than justified given the challenges and existing threats. They demand new concepts of learning and teaching; Bildung should equip generations to deal with and change the present in order to shape a sustainable future for the Earth.


We exchanged ideas about new approaches and concepts together at the 4-day conference, from 31.08.-03.09.2022 at the IASS Potsdam.

More than 60 contributions from a wide range of countries and perspectives from our global societies in 16 different thematic areas come together live and virtually in this hybrid organized conference in Potsdam. Notable key speakers include:
Ernst Ulrich von Weizsäcker

,
Honorary President of the Club of Rome
 

Richard Borden

,
COA's Academic Dean for twenty years, past-President/Executive Director of the Society for Human Ecology
 
Lene Rachel Andersen,
Danish economist, author, futurist, Bildung activist, and a full member of the Club of Rome

 

Jennifer Amparo,


Associate Professor at the College of Human Ecology, Assistant to the Vice-Chancellor for Administration at the University of the Philippines Los Banos
Thomas Schmaus,


Professor of Philosophy at Alanus University in Bonn, past Dean of the department Philosophy and Social Innovation
 

Johan Rockström,


Johan Rockström, Professor at the Potsdam Institute for Climate Impact Research, chair of the advisory board for the EAT Foundation and the Earth League, appointed as chair of the Earth Commission
We would like to thank all the presenters of the program who contributed with this wide range of diverse and exciting topics.
| | | | |
| --- | --- | --- | --- |
| Climate Change | Art of Living | Harmonize with Nature | Radical Human Ecology |
| Agenda 2030 | Transdisciplinarity | Environmental Learning | Environmental Justice |
| STEM Education | Meal Cycle | General Studies & Social Innovation | Food Supply |
| System Theory | War & Politics | Human Ecology in Europe | Digitalisation |
The conference program shows you the full variety of topics and discussions and is the gateway to the papers available there, which we will publish step by step on our websites in the coming weeks.
Jointly organized by
European College of Human Ecology (COHE), Berlin, Germany
Institute for Advanced Sustainability Studies (IASS), Potsdam, Germany
in cooperation with
Federation of German Scientists (VDW), Berlin, Germany
Alanus University Bonn/Alfter, Germany
Potsdam Institute for Climate Impact Research (PIK), Germany
German Society for Human Ecology (DGH), Berlin, Germany
Society for Human Ecology (SHE), Bar Harbor, ME, USA